The Actuarial Science Concentration is ending. Only students currently enrolled at Penn and graduating in May 2023 at the latest will be able to concentrate (or minor) in Actuarial Science.
Actuarial science stands at the intersection of risk and money. Actuaries are experts in evaluating the likelihood and financial consequences of future events, designing creative ways to reduce the cost of undesirable events, and decreasing the impact of tragic events that do occur. They are in great demand by insurance companies, consulting firms and financial institutions.
The concentration provides an intriguing blend of mathematics and business management for students with a strong mathematics aptitude. Ideally, students graduating from Wharton with an actuarial science concentration will be prepared to pass or will have passed many of the professional examinations given by the Society of Actuaries or the Casualty Actuarial Society.
Concentration Advisor
Related Links
Is there a particular course or experience that can help determine if this concentration is a good fit?
STAT 451: Fundamentals of Actuarial Science I will give students a good idea of what actuarial science is all about.  Even if they decide not to continue in the concentration, it is a course that they are going to use use their life; it could be called "Mathematics of Personal Finance."
Note that MATH 104, STAT 430 are prerequisites, and it is recommended that students take STAT 430 as early as possible.
What qualities/skills are good to have when going into this concentration?
Personal, management, and team-spirit skills are emphasized more and more, but this remains is highly quantitative concentration that is for math-oriented students only.
What skills or knowledge will students gain from this concentration?
Students will be prepared to pass the first four professional exams. Upon graduation, they will know the essential mathematics tools of insurance.
Are there other concentrations or upper-level courses in other departments that would pair well with this concentration?
Most actuarial students double-concentrate in finance, but this is really not a requirement.  Computer science, statistics, finance, and languages are great add-ons, but students will find a job upon graduation regardless.
Student Profile: Katy Allen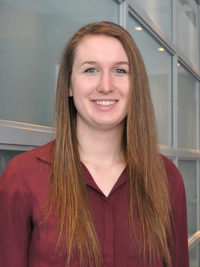 Why did you choose this concentration?
In high school, I was very interested in math, but wanted to go into business as well.  One of my teachers suggested looking into being an actuary, and it seemed to be a good fit with what I was interested in. I love how [actuarial science] directly applies math and statistics to real life situations and how many different career opportunities actuaries have.
What was your favorite course in this concentration and why? 
My favorite course was STAT 452: Fundamentals of Actuarial Science II.  This is the second class in the concentration and is a continuation of STAT 451.  I enjoyed the class because we started getting more in depth in certain concepts especially related to life insurance and annuities.  It was the first time when I could see how what I was learning in class applied to real life.
What course did you choose to take first in this concentration and why? 
I first took STAT 430: Probability because every other class uses these basic probability concepts.  Then I took STAT 451: Fundamentals of Actuarial Science I.  This was a great introduction to what being an actuary is all about and really provides a good base for other classes in the concentration.
What advice would you give to a student who is considering this concentration? 
Go to the first class of STAT 451 even if you are not enrolled in the class.  Professor Lemaire explains the whole process of becoming an actuary and what each class in the concentration is about.  It was a great introduction to the concentration, especially if you do not know much about actuarial science.
Do you have a second concentration? If so, what is it and why?
I am also concentrating in finance.  I felt like finance was a good second concentration because actuaries are involved in a lot of the financial activities of a company.  It expands my breadth of knowledge and can allow me to have different roles in a company later on in my career.