The goal of the Wharton Undergraduate Division academic advising team is to help students make informed decisions about their educational plans and professional/life goals that are consistent with their interests, abilities, and values.
Your academic advising experience will begin in Canvas, a learning-management system.¹ You will complete modules in Canvas that will walk you through the curriculum, first-semester course selection, and registration.
Once you have completed the required Canvas modules, you will be able to sign up for an online group advising session through Canvas. In the session, you'll learn more about the advising system, meet your academic advisor and fellow members of your cohort or Joseph Wharton Scholars (JWS),² and have the opportunity to ask about course registration.
Students in coordinated dual-degree (CDD) programs should consult with their program advisors for information about their programs and curricular requirements. CDD students are welcome to join an online cohort advising session, but are not required to do so.
Individual, one-on-one advising will be available starting in the fall semester. In the meantime, you may email your advisor if you have specific individual questions. Students will receive an email from their academic advisor with their cohort assignment in mid June.
Find Your Academic Advisor
Coordinated Dual-Degree Advising
Huntsman Program in International Studies and Business
Marco Alves | +1.215.898.2426 | alvesm@wharton.upenn.edu
Kelly Cleary | +1.215.893.2345 | clearyk@wharton.upenn.edu
Jerome Fisher Program in Management and Technology
Sarvelia Peralta-Duran | +1.215.898.4146 | snp@wharton.upenn.edu
Nursing and Health Care Management
+1.215.898.6687 | advisor@nursing.upenn.edu
Roy and Diana Vagelos Program in Life Sciences and Management
Peter Stokes | +1.215.898.2739 | stokespm@upenn.edu
Privacy Rights
As a student, it is important for you to understand your privacy rights. For specific information about protecting personal privacy, confidentiality of student records, ways to manage your personal information, and other important topics, please refer to the Penn Privacy website. We suggest you discuss your privacy settings with your parents or other family members.
---
¹ You will receive an invitation to participate in the course once you have created your Wharton account.
² Students in JWS will have online meetings with their JWS advisor.
Advice for Incoming First-Years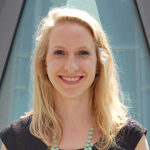 "My biggest advice is to get to know the students around you! In particular, get to know upperclassmen and do not be afraid to ask questions! Wharton students are always eager to help out younger peers, and you will be amazed at the advice and resources you will find!"
Anna Reighert, W'15, Chagrin Falls, OH