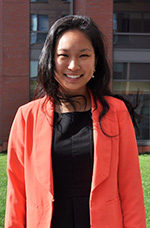 Welcome to Penn InTouch! You are being bombarded with a million links to websites right now, but be sure to bookmark Penn InTouch. This is a portal every Penn student uses regularly, and you will need it to browse, select, and register for classes (Penn InTouch also gives you access to your academic planning worksheet, your transcript, and information on financial aid and student loans).
Every semester during the Advance Registration period, you will use Penn InTouch to craft your schedule for the following semester.
Make sure you review your curriculum requirements and information on placement on Undergrad Inside. This will clarify for which courses you should be searching and registering.
Checking Course Details: When do classes meet?
Go to Penn InTouch and check out the left column. Click "Registration and Planning" > "Course Search."
This is the place where you will find which courses are being taught the following semester, the days and times they meet, whether there are recitations or not, and who the professors are.
You'll notice that every department has a 4-letter code ("ECON" for Economics, "WRIT" for Writing, "CLST" for Classical Studies, and so on….)
Use that 4-letter code, along with the course number found in the course register, and enter it into the "Course ID/Subject" field. You can do a preliminary search of the class based on this information (press "find courses"), upon which, you will see all the sections of that class, row by row.
You can make a more detailed search by clicking on "Show more search criteria" and further filtering information so you can find your desired class. Please note that "fulfills requirement" refers to College requirements, not to Wharton requirements.
Shopping
When you find classes you like and will potentially take, click "Add to cart." They will appear in a box to the right of the search box, under "My course cart."
If you want more information from course evaluations about a class or professor, go to penncoursereview.com for ratings.
Creating Your Schedule
Once you have a selection of classes, go to "Registration and Planning" > "My mock schedules" Based on the courses in your cart, you can create as many mock schedules as you would like. Play around with different times, combination of courses, and professors.
Finally: Requesting Classes
Hopefully after playing around with different schedules, you made a mock schedule that you like.
Go to "Registration and Planning"> "Register for Courses" Here, you need to input the specific class and sections into the box. You can select a "primary" option and put in an "alternative" section for a course (in case you don't get registered for the primary section, you have a backup.)
Additionally, you can use the arrows next to each class and rank them – let's say you really want to get into Intro to Acting (THAR 120) which only allows 16 students. Rank this first, and you'll have a better chance of getting into the class.
Important Note: just because you have a mock schedule made, does NOT mean that you have requested classes. You need to make selections in "Register for courses".
Good luck, and reach out to your academic advisor and cohort director with questions!
---
Jenny Qian, W'16, is from Atlanta, GA, and concentrated in management and finance.