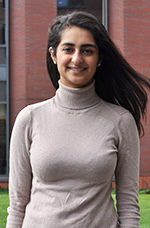 Welcome and congratulations on your acceptance to Penn! The Student Perspectives blog aims to provide genuine insights from upperclassmen at Wharton who have been through the highs and lows that come with being a student at Penn.
First and foremost, this 4-year journey has been the most incredible experience of my life, and, if I could do it all over again, I would. In just a few months you are going to join one of the most vibrant, curious, and fun college communities, and, as an out-going senior, I am indeed jealous! I hope this introductory post will help you get excited about Wharton and Penn and also shed some light on the helpful content you can find here throughout your first semester.
As Penn students, we all feel the itch to become involved in our school communities right away and seek the best classes, clubs, and even dorm buildings to be able to curate experiences for ourselves. I encourage you to be aware of that itch, to allow it to motivate you, but also take your time to get to know the Penn and Wharton community, settle into academics, and have fun. Whether it's huddling with your classmates late at night in the library studying, going for a run through Philly's historic parks and landmarks, or dancing the night away, Penn has it all for your taking.
Throughout the summer and fall semester, Student Perspectives will feature opinions and guidance from upperclassmen on topics ranging from academics to student life to just general advice about navigating your experience at Wharton. Many of the blog writers are or were Wharton Peer Advising Fellows (WPAFs) – undergraduate seniors with whom you can set up appointments  to ask any questions you may have about school and beyond. I encourage you to reach out to any of the WPAFs at any point during the semester, especially when you just want to talk to another student rather than go to an official advisor. There are also several other resources both academic and life related to help you throughout your four years – stay tuned to the blog to learn more! Congratulations again!
---
Neha Budhraja, W'16, is from San Francisco, CA, and concentrated in management with a specialization in entrepreneurship and innovation.