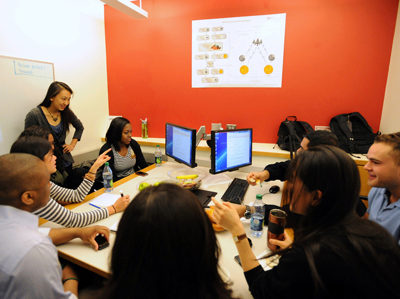 The Wharton Integrative Business Simulation (WH 401) is a for-credit, interactive business simulation that provides Wharton seniors with the opportunity to draw on their business knowledge—finance, management, marketing, leadership, and social responsibility—while formulating and executing business strategy in a competitive, team-based environment.
Utilizing real-time problem solving within a dynamic simulation environment, teams design and implement strategic plans, integrate feedback from the consequences of those decisions, and interact with other teams to create shareholder and social value.
The four-day course will be offered during fall break in AY 2021-2022. WH 401 consists of five rounds of simulation over the four-day curriculum. Each 3-4 hour round is prefaced by an introduction or recap and followed by a team-dynamics discussion. The closing session will integrate lessons on business acumen, communication, leadership, and teamwork.
Social activities are scheduled throughout the four days to create a truly meaningful and memorable experience.
The course provides the opportunity to:
Gain a better understanding of the complexities and linkages among business functions.
Learn how to more effectively develop and assess business strategy.
Enhance communication and leadership skills through team-based decision-making processes.
Engage in conversations with Wharton alumni about corporate decision making.
Earn 0.5 course units toward Business Breadth

or

Unrestricted Elective requirements or satisfy the Leadership Journey capstone requirement.
Eligible seniors will receive an email notification when the preregistration system for capstone courses opens.