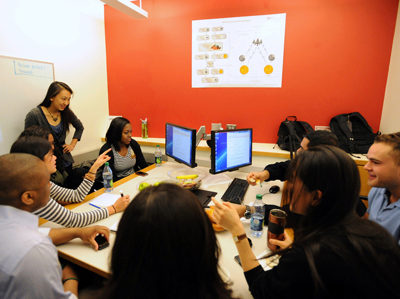 The Wharton Integrative Business Simulation (WH 401) is a for-credit, interactive business simulation that provides Wharton seniors with the opportunity to draw on their business knowledge—finance, management, marketing, leadership, and social responsibility—while formulating and executing business strategy in a competitive, team-based environment.
Utilizing real-time problem solving within a dynamic simulation environment, teams design and implement strategic plans, integrate feedback from the consequences of those decisions, and interact with other teams to create shareholder and social value.
The four-day course is offered two times a year: October during fall break and January during winter break. WH 401 consists of five rounds of simulation over the four-day curriculum. Each 3-4 hour round is prefaced by an introduction or recap and followed by a team-dynamics discussion. The closing session will integrate lessons on business acumen, communication, leadership, and teamwork.
Social activities are scheduled throughout the four days to create a truly meaningful and memorable experience.
The course provides the opportunity to:
Gain a better understanding of the complexities and linkages among business functions.
Learn how to more effectively develop and assess business strategy.
Enhance communication and leadership skills through team-based decision-making processes.
Engage in conversations with Wharton alumni about corporate decision making.
Earn 0.5 course units toward Business Breadth

or

Unrestricted Elective requirements or satisfy the Leadership Journey capstone requirement.
Eligible seniors will receive an email notification when the preregistration system for capstone courses opens.
Spring 2021 (January 11-17) Course Information
This course is for Wharton seniors (May, August, or December 2021 graduates) only.

The deadline to change the grade type for this course is January 11.
This course will be synchronous and completely virtual.
You must be available for the entire course schedule (all times are EST; tentative):

Monday, January 11, 10AM – 12:30PM
Tuesday, January 12, 10AM – 3PM
Wednesday, January 13, 10AM – 4PM
Thursday, January 14, 10AM – 4:45PM
Friday, January 15, 1-2 hours, self-scheduled by teams
Saturday, January 16, 10AM – 4:15PM
Sunday, January 17, 10AM – 6PM

Enrollment is limited, and students will be selected via the capstone course registration process. Eligible students will receive an email notification when the system opens.
This course will have an early drop deadline. Students who are registered for the course will be provided with the date by November 23.
This course will count toward the spring semester, and, as a reminder, you must request a course load increase if you want to take more than 5.5 CUs.
Student Testimonials
"I found this course to be thought-provoking and entirely engaging."
"I thought the sim did a really good job of integrating all the academic concepts I've learned. I also thought each day was planned out really well. The events were sooo much fun!"
"The balance between the social aspects and the learning aspects was right where it needed to be. I loved how invested everyone was in the whole course."
"I really enjoyed how well teamwork was built into the nature of the simulation. I have worked in countless groups since coming to Penn, but the Wharton Capstone team dynamic was certainly one that I have never experienced before."
"Before coming back from break, I was really slapping myself on the wrist for signing up for an additional course. But I am so glad that I did. I feel that I've made new friends and strengthened my existing relationships. It was really great to engage in both the intense simulation but also meet with everyone in casual contexts. I did not realize how much I have learned over the past 3.5 years until I finished this simulation! It was an amazing feeling once I made that revelation."