Wharton undergraduates are encouraged to apply what they learn in the classroom in service of positive change in Penn's immediate neighborhoods and around the world. Below are programs and resources that support student engagement in the Philadelphia community and beyond.
Nonprofit Connect
In collaboration with the Netter Center, this program gives Wharton undergraduate clubs and teams of teams of second-years and juniors the opportunity to provide semester-long, pro bono consulting services to non-profit organizations in the Greater Philadelphia area. Some past projects include the creation of fundraising and marketing plans, financial and data analysis, accounting services, media campaigns, and more. Examples of previous participating community organizations include Why Not Prosper, Haitian Professionals of Philadelphia, and the Urban Affairs Coalition.
Philadelphia Summer Internship Award
The Undergraduate Division offers limited funding on a competitive basis to Wharton undergraduates who accept an offer for an internship at a government entity, non-profit organization, or think tank in the City of Philadelphia. The internship must be either unpaid or come with only modest compensation (less than $500 per week). Learn more
ABCS Courses
Academically Based Community Service (ABCS) courses involve hands-on, real-world problem-solving learning opportunities that help students become active citizens and lifelong learners.  To find ABCS courses in Path@Penn, use Advanced Search and Course Attribute "UNAS." ABCS courses typically count toward Wharton's Liberal Arts and Sciences requirements.
ABCS Course: URBS 1780
Safia Razin, W'23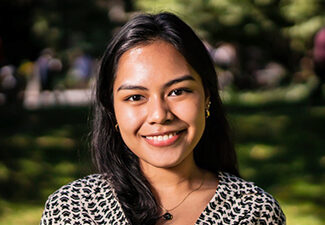 I took URBS 1780: Faculty-Student Collaborative Action Seminar in Urban University and Community Relations led by Dr. Ira Harkavy, Professor Theresa Simmonds, and Om Manghani in Fall 2022.
The research seminar focused on Penn's relationship with West Philadelphia through programs led by the Netter Center for Community Partnerships. We dove into the history of Penn, the democratization of universities, and societal issues faced by members of West Philadelphia. Our final project was to study the intersection between the role of urban universities in remedying real-world problems in the local context through the Problem-Solving Learning approach.
Why did you choose an ABCS course or this course in particular?
ABCS courses have always been on my radar. Several of my friends raved about these courses being their favorite class at Penn, so I had to check it out myself. As it was my final year at Penn, it pushed me to explore the ABCS courses and enroll in one. This seminar in particular was very interesting to me because I am passionate about education and education access.
How did you engage with the community during the course?
We got to put into practice our study on university-community relations by volunteering as mentors at Paul Robeson High School. Once a week, we would meet with our mentees and provide them with college access support. As college students, we could relate to the stress that came with college applications. So we did our best at guiding them through the application process from researching schools to giving feedback on college essays.
How was this ABCS course different from your typical courses?
It wasn't the typical lecture-style classes that I was used to. The seminar only had 10 students in it including myself. So, we always had room for discussion. This ABCS course also required a lot of on-the-ground work. Besides volunteering with students at Paul Robeson High School, we were also working on our research paper which required a lot of input from Philadelphia community members and Penn Leaders.
What was the most surprising thing you learned from your ABCS course?
I learned a lot about the Netter Center's program and how actively involved Penn is with the West Philadelphia community through some of their initiatives. If you are interested in giving back to the community, they have plenty of open spots for volunteers and student leaders. Even the ABCS course itself allows you the flexibility to volunteer on your own time.
Would you recommend ABCS courses to your fellow Wharton students, and if so, why?
Yes, I would definitely recommend enrolling in an ABCS course! It will be a refreshing change from your typical Wharton classes. Not only does it challenge you to critically think about societal issues at the community level, but you can also be involved in something that directly impacts the lives of others. My only regret was not signing up for an ABCS course sooner!
ABCS Course: MATH 1234
Alison Liu, W'24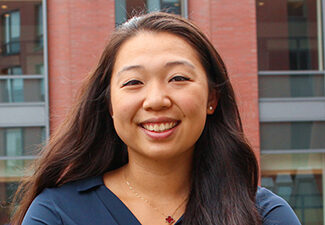 I took MATH 1234, an ABCS class where we taught math to students at the Paul Robeson High School in West Philly.
We were split into five teaching teams and each team was assigned to a group of high school students. We were responsible for developing two lesson plans throughout the semester. During the first class of each week, one teaching team would present their lesson plan to the class. Then, during the second class of each week, we would teach the students according to the developed lesson plan.
Why did you choose an ABCS course or this course in particular?
The moment that I learned about ABCS classes at Penn, I knew that I wanted to take one before graduating. I consider giving back to my community to be very important and think that it's amazing that Penn offers classes with a community service component. I have also always enjoyed teaching, especially math, so this course was the perfect class for me since it allowed me to give back to the West Philadelphia community by teaching math.
How did you engage with the community during the course?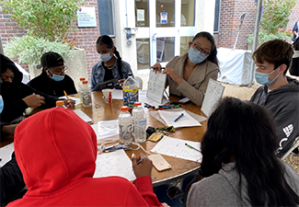 From the start of the semester, my teaching team was paired up with six high school students. Every week, we met with our students and really got to know them, from their hobbies and interests to their families. It was really rewarding to work with the same students every week and to see them grow throughout the semester. Not only did we teach them math and prepare them for their Keystone exam, but we also talked about the benefits of attending college.
During my first meeting with my students, only two out of six of them said that they wanted to attend college after high school. However, by the end of the semester, all six of them said that they would apply to college. It was really amazing to see them grow throughout the semester and I can only hope that they found the experience as rewarding as I did!
How was this ABCS course different from your typical courses?
Compared to typical courses, this ABCS class was a very hands-on and eye-opening experience. I enjoyed working with my students every week and learning about their experiences and goals. You really bond with your students throughout the semester and it's extremely fulfilling to see their progress. I looked forward to going to MATH 1234 every week and found it a refreshing change of pace from my other classes. My students were awesome to work with and I always left class in a better mood, especially in the midst of a stressful week.
Would you recommend ABCS courses to your fellow Wharton students?
Yes, I think that ABCS courses are a great way to directly get involved with the community! My experience was very enriching, and it has been one of my favorite classes at Penn so far. People often use the excuse that they don't have time when it comes to community service, so an ABCS course is a great way to give back to the community during structured class time. ABCS classes are very unique and a good break from the other classes that you take at Penn. I think that everyone should take an ABCS class before they graduate!