A key challenge facing managers is the interpretation of the vast amount of data generated by computing systems. As these data do not directly answer important business questions, data analysis and statistics must be used to interpret them. Statistics courses develop the skills and insights required to make effective use of quantitative methods. They provide the knowledge needed to select and apply techniques and to communicate statistical results. All courses provide skills that augment substantive managerial abilities, along with exposure to computer software that implements key techniques.
The concentration consists of four elective courses beyond the Business Fundamental requirement of two courses.
Concentration Advisor
Related Links
What type of student is this concentration a good fit for?
Statistics concentrators should be very good with numbers/mathematics. A stat concentrator does not need computer experience, but he/she will need to acquire it and, at a minimum, should be interested in obtaining programming skills.
What skills or essential knowledge will a student gain from this concentration?
Obviously, a stat concentrator will learn to extract information from data to help solve problems. Concentrators can focus on data science with a little theory or vice versa. Students may wish to learn only to be able to manage and communicate with data science teams. Alternatively, they may want to be data scientist themselves. A Stat concentration is great preparation for graduate school.
What other resources/experiences can help determine if this concentration is the right fit?
A student who completes the core courses in statistics and enjoys them will be a good fit. A data management/programming course in OID or CIS can be a helpful indicator as well.
Are there other concentrations or upper-level courses in other departments that would pair well with this concentration?
Historically, a finance concentration paired well with statistics in preparation for a career as a quantitative analyst. Today, data scientists are being hired all over. Operations, Information and Decisions (OID) is a natural pairing, but really any field is fine.
Student Profile: Jake Stamell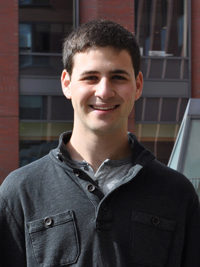 Why did you choose this concentration?
I chose stat because I really enjoy math and quantitative classes in general.
What was your favorite course in this concentration and why?
STAT 4760: Applied Probability Models in Marketing – It was a very well taught class that introduced a new way of looking at statistics. Additionally, the applied focus was really interesting for learning how you can actually use the skills from class
What course did you choose to take first in this concentration and why?
I first took STAT 4300: Probability because it's the prerequisite for everything.
What advice would you give to a student who is considering this concentration?
Try STAT 4300 first and see if you like it, as it's a great intro to probability and statistics.
What concentration-related skills have you used during internships or other work experiences?

None directly, though the way of approaching problems has been helpful.