Summer 2022 Program Description
What is the Wharton Social Impact Research Experience?
The Wharton Undergraduate Division will offer up to ten awards to support undergraduate research that promotes both economic and social value either domestically or abroad. Projects will be designed and carried out by the students under the guidance of some of Wharton's preeminent faculty members. Students' projects will culminate in oral presentations and written research papers that will be posted on ScholarlyCommons@Penn.
Participants will receive a taxable award of up to $6,000 for approved travel and lodging expenses.¹ An initial installment of $3,000 will be distributed in April so that students may begin to make travel arrangements. A second installment to cover up to an additional $3,000 will be distributed in the fall after all required receipts for travel and lodging expenses are properly submitted and approved and the final research paper is received by the program director and approved by the faculty advisor.
What are the program requirements?
While engaged in the research program, participants are expected to spend the equivalent of at least 20 hours per week over a two-month period engaged in research on the approved project and not accept alternative employment exceeding 20 hours per week or take more than one concurrent summer course. Students also must agree to:
Perform a research project during the summer under the guidance of a faculty advisor, submit a rough draft of the research paper by mid-August and a final paper (approved by the faculty advisor) at the end of the research project and no later than September 15.
Present your research at a symposium in the fall or spring semester after your research summer.
Remain in frequent contact with your faculty advisor as is consistent with making appropriate progress on the project.
Submit all required receipts for travel and lodging expenses at the end of the research project and no later than September 15, in order to receive the second award installment of up to $3,000 for additional travel and lodging expenses. Payments will not be distributed until your final paper has been received and approved by your faculty advisor.
Submit a blog post or complete a Q&A student-participant profile to communicate your research experience and/or findings to a broader audience (e.g., on this or other Wharton websites).
Non-compliance with program deadlines and expectations could result in forfeiture of the award.
How do students apply?
All Wharton undergraduates in good standing are eligible.
As long as the proposed project promotes economic and social value, there is considerable latitude regarding the specific focus of and methods for the research project. It may be a theoretical or applied project and may utilize quantitative or qualitative research methods. Applicants must have a faculty advisor signed on to provide advice on their project. Priority will be given to those working with a Wharton faculty member.  For information to assist in identifying a faculty advisor with expertise in your area of interest, please visit the Wharton faculty directory.
A successful proposal should generally include a compelling, well-designed research project including methodology, strong academic achievement by the applicant, and an outstanding essay regarding program participation.
Applications are due February 8, 2022.
Applications may continue to be accepted after the deadline on a space-available basis. Email your interest to Dr. Utsav Schurmans at schurman@wharton.upenn.edu.
Where can I get more information?
For more information about the program, first review the SIRE FAQ. If you have additional questions, you may contact Dr. Utsav Schurmans, Director of Research and Scholars Programs (schurman@wharton.upenn.edu).
¹ Monetary awards constitute taxable income. If you are a U.S. citizen, taxes will not be withheld from your award, but you will receive a 1099 tax form from the University of Pennsylvania at the end of the year for tax reporting purposes. If you are an international student, the University will withhold 30% of your award amount for tax purposes, barring any tax treaties that may exist with your home country. International students can find information about Penn's tax policies at the Office of the Comptroller.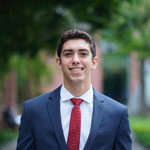 "SIRE's flexibility gave me the opportunity to adapt my research project in the dynamic world of COVID-19. I am so thankful for this opportunity to learn so much about Lithuania and Sustainable Development!" Read more
Zach Vlessing, SIRE 2021

"While the task of planning and executing a complete research project might seem daunting to some, I found the experience to be both deeply rewarding as I learned from my mistakes and challenged myself to take on more responsibilities and be more thorough." Read more
Angela Shen, SIRE 2021

"The COVID-19 pandemic quickly shifted my plans and forced me to rethink my research approach. After consulting with my faculty advisor, we decided it would be best to focus more on the business ethics and legal standards by which banning cashless businesses could be upheld." Read more
James Meng, SIRE 2020