Wharton's Real Estate Department seeks to produce sophisticated professionals with the necessary skills to succeed in the business world but who also have a broader perspective on the issues involved in creating and maintaining living and working environments. Relevant issues that department faculty examine include finance, investments, production, operations, development law, design, environmental remediation, public policy, economic market analysis, and architecture.
The real estate concentration consists of one required course (REAL 209: Real Estate Investment: Analysis and Financing) and three electives. While the required course focuses on real estate finance, the electives allow students to explore a variety of issues related to real estate. These include real estate development, the legal aspects of real estate investment and financing, and the relationship between government policy and real estate development.
Concentration Advisor
Related Links
Is there a particular course or experience that can help determine if this concentration is a good fit?
REAL 2090: Real Estate Investments will allow students to get a feel for the technical and valuation-oriented aspects of real estate that all students looking toward a real estate career should know, and it is the only required course in a Real Estate concentration. REAL 2090 covers the valuation of real estate assets, real estate debt and equity financing, and investment decision making.
What other resources/experiences can help determine if this concentration is the right fit?
Students interested in real estate can join the Wharton Undergraduate Real Estate Club, which offers a way for students to attend executive visitor lunch series, go on treks to different real estate markets across the country, and meet with influential figures in the industry.
Students can choose to volunteer at, and thus attend, the biannual Samuel Zell and Robert Lurie Real Estate Conference, hosted in the spring and fall. The conference brings together some of the foremost academics and business leaders in the real estate world for panels and discussions. The Zell-Lurie Real Estate Center also encourages students to participate in the Mentor Program in which students are paired with relevant mentors from the real estate industry; to post their résumés in the on-line résumé book, and to attend the annual career fair, which is an opportunity to meet executives from national and international real estate firms and banks with real estate operations.
Several Real Estate Department classes, especially REAL 2150: Urban Real Estate Economics and REAL 2040: Real Estate Law, host numerous guest speakers over the course of a semester during regular class hours. Students who are interested can consult with course professors to determine whether there is an opportunity to sit in on speakers' guest lectures. Past speakers have included top executives in REITS, development companies, and entrepreneurs in the mortgage securitization business, to name a few.
Events organized by the Penn Institute for Urban Research throughout the year can also offer an occasion to get exposed to some of the contemporary issues that affect real estate development.
Students may also wish to consider consulting with members of the Real Estate Department faculty.
What qualities/skills are good to have when going into this concentration?
Students should have quantitative skills, a foundation in basic finance and accounting, and a strong desire to learn. Students with a background in basic corporate finance will find it easier to learn the material in real estate courses.
Students should also be aware that real estate is a field that is often dependent on strong people skills and the ability to make connections in the professional world.
More generally, many real estate jobs will offer a great variety of situations and challenges requiring a broad set of skills including planning, the management of people, suppliers or customers, etc. Recent changes in the industry have also been closely associated with the emergence of new technologies and new platforms.
What skills or knowledge will students gain from this concentration?
Students with a real estate concentration will be able to analyze real estate at both an asset-level or "micro" level and at a market-level or "macro" level.
Micro level: Students with a concentration in real estate will be able to understand the relevant dimensions and parameters when choosing a site for new development, manage the development process and appropriate financing and purchasing of real estate assets, and quantitatively determine the value of a real estate asset.
Macro Level: Students with a concentration in real estate will know how to evaluate key demographic, social, and fiscal policy metrics related to cities and metro regions. For example, students can learn about the theories governing the development and evolution of cities, the implications of cities' fiscal policy on the value of land, and the legal side of real estate transactions among other topics.
Are there other concentrations or upper-level courses in other departments that would pair well with this concentration?
The Real Estate Concentration puts a great deal of emphasis on the economic analysis of the operations of the real estate industry. It is nicely complemented by a variety of Business Economics and Public Policy courses, e.g., BEPP203: Business in the Global Political Environment or BEPP 201, Introduction to Business Economics.
With real estate companies becoming more global, courses with an emphasis on international topics, such as MGMT 111: Multinational Management may help students navigate the trend toward globalization over the course of their careers.
Students with a particular interest in urban development may consider the Urban Real Estate and Development minor offered jointly with the College of Arts and Sciences Urban Studies Program. Seven courses are required to complete the minor that cover a broad set of topics related to real estate development in an urban context.
Students seeking a more entrepreneurial career may benefit from coursework such as LGST 2130: Legal Aspects of Entrepreneurship.
Students with strong quantitative skills may also benefit from upper-level finance courses such as FNCE 2030: Advanced Corporate Finance.
Note: If a student pursues concentrations in both finance and real estate and elects to use REAL 2090/FNCE 2090 towards their FNCE concentration, the student must then take an additional REAL elective (in place of 2090) from the approved concentration course list to complete the real estate concentration.
What careers or industries is this concentration a good fit for?
Real estate branches off into a multitude of career paths, with opportunities in many areas. For students with a strong interest in real estate finance, there are opportunities in private equity, REITs (real estate investment trusts), as well as CMBS (commercial mortgage-backed securities) and RMBS (residential mortgage-backed securities). Students who prefer more relationship-driven roles can seek opportunities in domains such as commercial leasing. Students seeking a more entrepreneurial route may wish to pursue a career in real estate development.
Student Profile: Matt DeGagne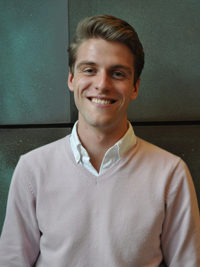 Why did you choose this concentration?
Coming to Wharton, real estate was a general interest of mine, which enticed me to attend the Zell-Lurie Real Estate Center's Spring Members Meeting during my freshman year. Having the opportunity to listen to speakers, and talk with industry professionals in disciplines ranging from finance and investing, to development and design, the breadth of opportunity within the business was of great interest to me. Entering my sophomore year, I began to sample concentration courses in real estate law and entrepreneurship. These courses offered an engaging mix of guest speakers, lectures, and case studies that provided a real-world context to course content. This initial exposure to the intersection of theory and practice, flavored with experiences of industry professionals and MBAs in the courses, encouraged me to pursue real estate as a concentration.
What was your favorite course in this concentration and why?
My favorite course in the concentration was REAL 2300, Urban Fiscal Policy. Cross-listed with Business Economics and Public Policy and Finance, this course provided an economic lens on the impact of social issues and government policies on land values and economic outcomes for cities and regional economies. With discussions ranging from crime and education, to economic drivers and employment, the impacts to, and from, real estate development were discussed. The professor's passion and knowledge of the course content, as well as guest speakers from both government and industry, provided an exciting and engaging semester making it my favorite course in my time at Penn.
What course did you choose to take first in this concentration and why?
My first course in the concentration was REAL 3960: Real Estate Entrepreneurship. While this half-credit course provided me with a broad exposure to different markets, asset classes, and focus areas within the real estate industry, a more fundamental class would have been of greater benefit as a first course for further engaging in the course material. Partnered with an MBA for the weekly case analyses, I was able to learn a great amount both inside and outside the classroom through working with an experienced partner. This experience also provided me with an industry mentor with whom I continue to stay in touch.
What advice would you give to a student who is considering this concentration?
For someone considering the concentration, I would recommend taking advantage of the variety of events hosted through the Wharton Undergraduate Real Estate Club, as well as the Zell-Lurie Real Estate Center. Both groups do a fantastic job of providing access to industry professionals from a great variety of disciplines within real estate in the contexts of lunches, career treks, speakers, and site visits. Each provide a great perspective of available opportunities, as well as the valuable network and skills gained through the pursuit of real estate at Wharton. Furthermore, I would recommend to anyone to pursue either REAL 2090: Real Estate Investments, or REAL 2040: Real Estate Law, as both courses provide valuable skills and knowledge about an industry that everyone interfaces with.
Do you have a second concentration? If so, what is it and why?
I am pursuing both a second concentration in Entrepreneurship and Innovation through the Management Department, as well as a University Minor in Urban Real Estate and Development through Wharton Real Estate and Penn's Urban Studies Department. With an eventual goal of launching a business, the entrepreneurship concentration has provided me with frameworks through which to test ideas, an environment to launch a small business endeavor, and experience with the challenges involved. The pursuit of my minor in Urban Real Estate and Development has provided me with an urban development and city planning lens through which to analyze real estate. These additional perspectives, taking into account politics and social issues of real estate projects, have provided greater breadth and depth to my primary concentration