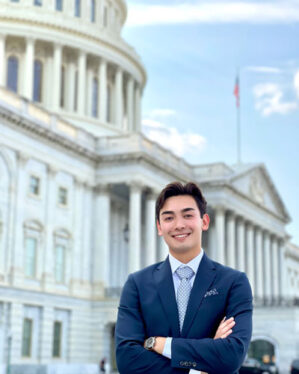 This past summer, I was thrilled to have the support from Wharton's Research and Scholars Summer Internship program to intern in the U.S. House of Representatives for Congressman Ted Deutch (D-FL). After taking a few courses focused on law and politics during my sophomore year, I recognized that I had a real interest in public policy and decided that I wanted to use my sophomore summer to work in that sphere.
Prior to my summer in Washington, I had never been particularly involved in politics. In high school, I was on the debate team and enjoyed reading about current events, but I never had the inclination to explore public policy as a career until I took a Penn in Washington seminar focused on congressional procedure. Through that class, I began to see how exciting working at the center of national politics could be. My work over the summer certainly lived up to those expectations.
During my first day on Capitol Hill, I remember walking past countless faces that I had recognized from the news. Being surrounded by individuals who were guiding the direction of national politics was exhilarating. In Congressman Deutch's office, the staff all shared the excitement I did for the work. My duties as an intern ranged from conducting legislative research to drafting official statements.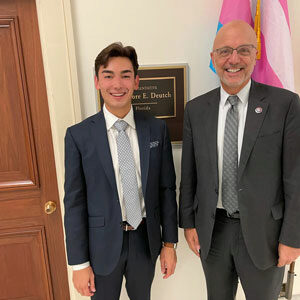 It was a practice in our office to return every call we received, so I was able to talk with Florida residents about issues across the political spectrum. Having all these one-on-one discussions helped me understand how even the smallest pieces of legislation can have dramatic impacts on individual lives. This part of my job reminded me that every position that we worked to advance could have a major impact on someone.
The feelings of impact and responsibility are what defined my internship experience for me. While my direct impact as an intern is small, it was so rewarding to know that I was able to play a part in improving lives. Unlike working in the private sector where profitability remains the primary concern for organizations, working in government demonstrated to me a new mindset to approaching problems in the absence of a consuming desire to make money. While change often moves a lot slower than most would like, I gained a newfound appreciation for the many genuine and decent people who work in Congress to make change happen.
My summer in Washington D.C. taught me several valuable lessons from both a practical and personal perspective. I gained a strong understanding of the policy-making process and a better understanding of my own personal interests.