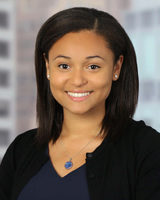 Why should undergraduates do research? Undergraduate research gives students the opportunity to learn about something that interests them most and take ownership of the thought, discovery, and delivery of new ideas to their field of study. In my case, research via the Social Impact Research Experience (SIRE) enabled me to explore the real-world implications of development economics policies and interventions in Lagos, Nigeria. Having the opportunity to review the literature on what has and has not worked and investigate for myself how better to reach the demographic of interest to me – women micro-entrepreneurs – was immensely eye-opening. With enough thought and effort invested into the research question and scope, research can be thoroughly engaging and rewarding for undergraduates.
Briefly describe your SIRE research project. For my research project, "Peace through Beauty," I ventured to Ajegunle, which is the significantly socio-economically disadvantaged slum in Lagos, Nigeria, to work with a micro-entrepreneur. I studied the challenges that face women entrepreneurs in the context of an informal and volatile economy in the developing world, including educational deficiencies, responsibilities and a lack of support at home, poverty, illness, maternity, a challenging customer base, and other significant factors.
How did participating in this research program impact you as a student? This program really opened my eyes up to research. Having the full backing of SIRE and a phenomenal research advisor helped me to craft my idea and bring it to life. Not only did I feel enriched, but I was able to solidify my grad plans – I was able to successfully pursue the Rhodes Scholarship in part due to SIRE, and my studies at Oxford will be influenced by what I learned through SIRE.