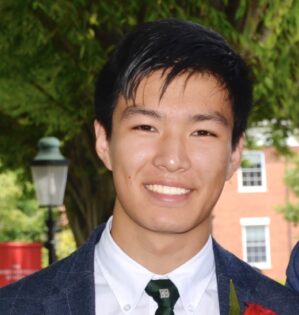 What mark will we have left on the world when our time is gone? To what purpose are our actions directed towards? Why do we do the work that we do?
These are questions that I find myself asking more and more as I near the point in my college career where it seems as if everyone is grappling with the prospect of entering the workforce full time.
More recently, I've come to believe that my own search for purpose and meaningful work is shaping up to be a question answered through a lifetime of experiences rather than by a decision. An important realization I made was that civic engagement was missing from my professional experience, and filling that gap would help me move towards finding a broader purpose beyond the self.
But at Wharton and perhaps even more so at home, I've also felt an immense amount of pressure to be practical in the choices I make regarding both my education and my professional career. In the face of a competitive job market and ever-increasing college tuition, this could only make sense.
For most of my life, I've thought of meaningfulness and practicality as conflicting, and for that reason I struggled internally more often than not with what classes to take, majors and concentrations to choose, and job opportunities to consider.
So as I looked for something to do in the summer following sophomore year, I thought it would be ideal to be in a position where I could increase my civic engagement and make a difference in the community around me, but also come away with practical experiences that would help me develop as a professional.
With funding provided by Wharton through the Philadelphia Summer Internship Award and with all of the aforementioned in mind, this past summer I interned at the Philadelphia Energy Authority.
The Philadelphia Energy Authority (PEA) is an independent municipal authority in the city of Philadelphia focused on energy affordability and sustainability. In 2016, PEA launched the Philadelphia Energy Campaign, a 10-year initiative to create 10,000 jobs and invest $1 billion in energy efficiency and clean energy projects in Philadelphia.
As an intern, I worked directly under the Solar Projects Coordinator at PEA, and my primary role was supporting the Solarize Philly program, a citywide group buying program to improve solar energy access. Through the end of the past four phases, the program has seen over 6,000 households sign up.
As someone passionate about climate change and the environment and also seeking an impactful career, I was excited to be joining PEA and Solarize, because I felt that their cause truly aligned with my own interests and values.
What I quickly came to understand, though, was that throughout the busyness of my daily schedule, I hardly had time to think about the purpose of my work on a scale as large as combating climate change. Instead, my focus was on what was in my capacity to do as an individual, whether that was organizing solar installation company applications, designing marketing and promotional materials, calling homeowners, or mediating net metering issues with PECO.
In the beginning, I was slightly put off by the reality of my work because I struggled to see the purposeful civic engagement I had been looking for in my seemingly minor daily tasks. However, despite this initial impression, I knew this internship was helping me develop many practical skills. Because the team at PEA is very small, my responsibilities varied tremendously, and I was gaining exposure to a lot of unique parts of the operational processes required to run a program like Solarize Philly. I was sharpening my communication skills, getting better at managing my work schedule and completing tasks, and learning a lot of valuable insights from all the different kinds of people I came in contact with throughout my time at PEA.
But as the days turned into weeks, and the weeks to months, the results of my actions became more and more clear. The flyers and social media posts I designed were helping get the word out. Customers were getting their questions about their solar systems answered. I was making sure PECO was calculating customer electricity bills fairly. What I came to realize was that no matter how minor something seemed, each of my actions had value. All those bits and pieces of value were building up upon each other, and that pile of value was materializing into the difference that I had been looking to make in my surrounding community.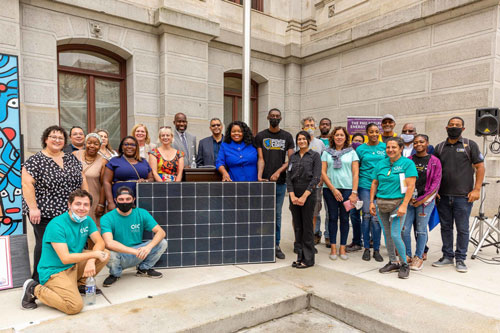 It wasn't immediately apparent to me that I could find meaning in even the smallest of my work tasks. Initially, I was blinded by the idea of making a big impact in one fell swoop. However, as I began to witness the value in my work that I perceived to be of minor importance, I realized magnitude can only be realized through a multitude of small efforts gradually becoming whole. Though each individual task might not have seemed like much, in hindsight, I finally started to visualize the meaning of my work in pushing for a clean energy economy in Philadelphia and a more sustainable future.
The fifth phase of Solarize Philly was launched just this past August during Philadelphia's third annual Solar Week. As I heard PEA staff, City Councilmembers, and Philadelphians speak at the press conference on the steps of City Hall, it was incredibly rewarding to see what we had been working towards throughout the summer come into reality.
To answer the question of why we do the work that we do is no simple task. But after this summer, I think being able to see the meaning in the little things brings me one small step closer to finding my own purpose.