Why did you choose this program?
In fall 2022, I studied abroad at Copenhagen Business School (CBS) in Copenhagen, Denmark. I chose this program because I had never been to Scandinavia before and wanted to experience what it's like living in a country built on socialist values. Additionally, Denmark is known for its sustainability and minimalism so it was really interesting to see those concepts pop up in class and in everyday life.
How were classes different from classes at Penn?
Classes at CBS were typically 2.5 hours long with one or two breaks in between and would meet twice a week. There were no attendance policies and the final grades were 100% based on the final exams. Additionally, while there are written final exams, oral finals are very common over there. For example, I had an oral final for my Danish class and spoke completely in Danish for 15 minutes.
What was the hardest adjustment you had to make when you arrived? How did you handle that?
The hardest adjustment I made was becoming more independent. For example, I had to set up a local cell phone plan on my own – something I previously took for granted – and push myself out of my comfort zone to make new friends. During the beginning of the semester, I'd frequently call my parents to ask for their advice on how to handle new situations.
What were some of the extracurricular activities that you engaged in while abroad?
I was really involved in the Exchange Social Program, which are events set up only for exchange students throughout the semester. Some fun events were smørrebrød (a traditional Danish open-faced sandwich) tasting, Danish folk dancing, and playing bocce ball. Separately, I also joined a creativity club where I tried my hand at pottery. Although there were many preprofessional clubs at CBS, I didn't join them because I wanted to try new things abroad.
What surprised you the most about your study abroad experience?
I was surprised at America's cultural dominance in Europe. Restaurants and event venues frequently played American pop music – I've heard everything from Bruno Mars to "Cotton-Eyed Joe" – and many of my European exchange friends love American sitcoms like Friends and How I Met Your Mother. It was fascinating to see how strongly the US influences pop culture across the pond.
What is your favorite moment or memory from your time abroad?
My favorite memory from my time abroad was fall break. I traveled to Italy with two friends from exchange and ended up exploring five cities in 10 days. Traveling to a different place every other day was definitely tiring, but the fact that we completed such a jam-packed trip gives me a sense of accomplishment. Each location had amazing food and incredible views, and the people I traveled with became my closest friends from abroad.
How did your abroad experience help you grow?
My experience abroad made me a more resilient and worldly person. The beginning of the semester was quite tough because my phone got stolen within a month of arriving in Copenhagen. However, that experience made me more independent and reminded me not to take things for granted. Additionally, meeting people from around the world and traveling across Europe taught me a lot about different cultures and intercultural communication. That never would've happened had I stayed at Penn.
How did you feel coming back to Penn after your program?
Although Copenhagen was an incredible experience and I definitely miss it, I'm also super excited to be back at Penn! As this is my final semester, there's a lot I'm looking forward to – catching up with friends, exploring Philly, Feb Club, and graduation to name a few.
What advice would you give to another student planning to go on this program?
Just go for it! While Copenhagen might not be the first place that comes to mind when you think of study abroad, it's a wonderful city and CBS is a great business school. Also, don't be afraid to ask a local if you need guidance – most are fluent in English and extremely willing to help!
Sharon Luo, W'23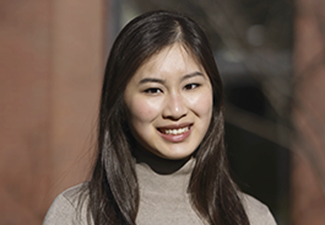 Hometown: Buffalo, New York
Concentrations: Finance, Statistics