Why did you choose this program?
I went to the CIEE Portugal Language and Culture program in Lisbon. I chose this program because it fulfilled my Huntsman requirement to study abroad in a country whose native language is our target language.
How were classes different from classes at Penn?
Classes were much smaller but still in a lecture format. They started every morning with a language class based on your level of proficiency. You were able to pick the rest of your courses from the small selection they offered through CIEE, directly enroll in at the host university NOVA, or the Business school, ISCTE. Courses outside of the CIEE program were structured and graded differently than American Universities, however, you were actually able to study alongside locals and other international students.
What was the hardest adjustment you had to make when you arrived? How did you handle that?
The hardest adjustment was the commute in the mornings to school since the dorm is about a 30 minute train ride from university. There was this café on campus that had delicious coffee and fresh pastries in morning, which I would rely on to power through the rest of the day.
What were some of the extracurricular activities that you engaged in while abroad?
I loved the vibrant art scene in Lisbon, so I would frequent museums. galleries, and street markets known to sell art in my free time. On the weekends, I would travel to other cities in Portugal such as Porto, Sintra, and Nazare, or to other European countries.
What surprised you the most about your study abroad experience?
I was the most surprised by the meaningful relationships I was able to develop in the four months I was abroad. I met lifelong friends from all over the world, which I am still in contact with today. I was also surprised by how lovely and welcoming the people of Lisbon were at all times.
What is your favorite moment or memory from your time abroad?
My favorite memory was getting stranded on Madeira, a Portuguese island of the coast of Morocco, for a week with two other friends because EasyJet could not get any pilots to land. The impromptu extended vacation was stressful at first because I was missing a week of class but after letting go of the things we could not control, we were able to make the most of our stay and explore the island more intimately. My phone also fell into the ocean a day into the week of being stranded, which forced me to be totally disconnected and enjoy the beauty around me.
How did your abroad experience help you grow?
In addition to improving my proficiency in Portuguese, I also realized that I have a love for intercultural exchanges, especially when they take place through art.
How did you feel coming back to Penn after your program?
I felt inspired to finish up my last year because I knew of the possibilities awaiting for me after graduation.
What advice would you give to another student planning to go on this program?
Definitely go, but don't pack too many things because everything is cuter in Portugal :). Also, be ready to WALK, everywhere.
Vanessa Perez Ortega, C'23, W'23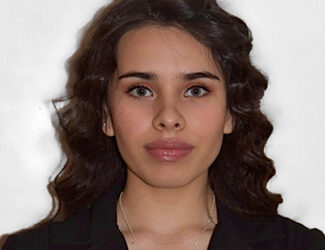 Hometown: Houston, Texas
Degree program: Huntsman
Wharton concentration: Management
College major: International Studies
Minors: Design, Portuguese