Why did you choose this program?
I chose the Spanish hybrid program at Pompeu Fabra University (UPF) in Barcelona. I selected it because I wanted to expand my Spanish speaking skills by immersing myself in a Spanish speaking country. I also was drawn to the city of Barcelona because of its multicultural and multilingual atmosphere. As a first-generation American student from a mixed race and multilingual family, I knew I'd feel most comfortable and uplifted in a city like Barcelona.
How were classes different from classes at Penn?
Classes were lecture-based with seminars accompanying a few of the classes. In this way, it was similar to Penn. However, there was a lot less accountability. Attendance was not recorded and there weren't many assignments throughout the semester. Most of the classes you are graded based on a singular assignment or exam at the end of the term.
What was the hardest adjustment you had to make when you arrived? How did you handle that?
The biggest adjustment was living in a multicultural and multilingual apartment. My roommates were from France, Spain, and the United Kingdom, so we had a mix of languages and conflicting norms. The way we overcame our differences was hosting a house meeting right off the bat. Personally, I helped mitigate any ongoing conflicts by working to speak in the native languages of my roommates. That way, it demonstrated to them that I cared about their background and wanted to learn about them so they felt more comfortable advocating for their needs.
What were some of the extracurricular activities that you engaged in while abroad?
I participated extensively in the ERASMUS program for exchange students. This program included activities such as beach volleyball, happy hours, speed dating, and excursions outside the city like a trip to Ibiza. I also made an extensive group of friends with international students and we gathered each weekend to play beach volleyball. Most of all, I spent a lot of time traveling throughout Spain and its neighboring countries.
What surprised you the most about your study abroad experience?
I was shocked by how much independence I had in my program. I set up courses and my housing on my own, which is unlike some of the other programs at Penn or at other American universities that send students abroad. Also, besides going to class I was never involved on my campus. I truly felt like I was living independently since I didn't know anyone coming into it and really felt like I was starting from scratch.
What is your favorite moment or memory from your time abroad?
My favorite memory was when a group of friends and I signed up for an ERASMUS road trip to Congost de Mont-Rebei. This was a hiking trail surrounded by a serene green lake hours away from Barcelona. This was an impromtu day trip that was absolutely unforgettable. The views were spectacular and I got to bond with so many people.
How did your abroad experience help you grow?
I truly learned how to live independently in a city I was unfamiliar with. I also was genuinely able to practice my Spanish and grow confidence in my language skills. Really though, going abroad has truly made me fearless. Ever since, I've always been confident to take on any unfamiliar experience. I've come back with a different level of maturity that has allowed me to open myself up to incredible opportunities I would not have considered previously.
How did you feel coming back to Penn after your program?
I was pretty sad to come back because I absolutely loved my program and living in Europe. Thankfully, I went abroad in the spring semester so I quickly transitioned to the summer when I had an internship that also required me to travel. This was a nice transition back to American and Penn life so by the time fall 2022 came around, I felt acclimated again with university life. I do wish though I could go back again!
What advice would you give to another student planning to go on this program?
I would take a leap of faith and do it. I knew absolutely no one and had no idea what was in store for me and came back with unlimited memories and stories to tell. My main piece of advice though is don't be afraid to be alone. Embrace your time in your own company. It can be intimidating and lonely at first but some of my favorite memories are things I did on my own! I don't think I would have had the same unforgettable experience if I didn't tune into my own independence.
Lynne Andre, W'23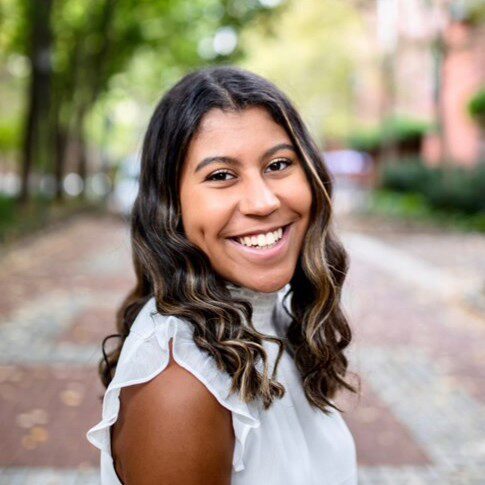 Hometown: Fairfield, Connecticut
Concentration: Real Estate
Minor: Urban Studies